Reach Your Potential With a Coach
THROUGH REAL WORLD EXPERIENCE, TRAINING AND CERTIFICATION WE USE THE ART OF COACHING, MENTORING, TEACHING, SPEAKING AND TRAINING TO BRING TRANSFORMATIONAL AND MEASURABLE GROWTH TO INDIVIDUALS, COMPANIES AND THEIR TEAMS.
OUR TEAM IS READY TO HELP #LETSGETTHERETOGETHER
Master Your Personal and Professional Life!
We offer solutions that fit your schedule and budget!
Titus Bartolotta | CSG's CEO
Published Author, Motivational Speaker, Podcast Host, Philanthropist, Certified Coach!
Titus Bartolotta, is the passionate founder and leader of Collaborative Solutions Group. He is also the author of "The Master Within". This dynamic speaker and certified coach has a powerful story. Hear some of these stories and much more as he interviews professional athletes, entrepreneurs, world class business leaders, and thought leaders in the CSG podcast "Solutions from the Huddle." Titus' real world life experiences, hands-on small-business experience and corporate board room successes only enhance the vision and direction he pours into the team at CSG; ensuring that meaningful and transformational growth comes to every individual and team ready for the journey.
Bill Russell
President and CEO for The Lake Norman Chamber
"Titus Bartollotta, with Collaborative Solutions Group, is not just another successful business coach. An entrepreneur himself, he has seen firsthand the challenges business owners face daily in operating a successful organization. Titus faced extreme hardship early in life, which in many instances, place real barriers and limitations to personal growth and development. Those challenges only hardened his resolve to overcome them and reach the potential God gave each one of us. His inspirational message, thoughtful guidance, and strong business acumen can help you and your team excel in today's competitive business climate."
Parker Levy
Commercial Real Estate Agent
I worked with Laura when I was just getting starting in a new industry. She helped me organize my pursuits into a time effective approach that allowed me to really start picking up steam. She provided solutions that were "outside the box" and helped me spend my prospecting time more efficiently. If you are looking to get more organized, I would highly recommend reaching out to Laura as she will get you on the right path!
Jackie Benjamin
Business Owner
I can't say enough great things about how Laura has helped me with my business! From marketing to revenue forecasting to organizational planning and so much more, she always has great insight into what I need to keep moving forward and pushes me to get there. Being a small business owner with a million ideas running through my head, Laura helps keep me on track and on task.
Anna Davis
Brand Collateral Specialist
When you work with Titus Bartolotta, you can't help but be inspired strive to be your best. Every encounter with him leaves me feeling like a better, stronger, more productive person, not only in my career but as a parent, spouse, friend. Titus is a true servant-leader who has used his own life experiences to make the world a better place and his clients better people. I HIGHLY Recommend him! Do yourself a favor and have an introductory conversation with Titus. You'll be glad you did.
Shelby Hyde
Registered Representative - Western & Southern Life
Meeting with Laura has made such a positive impact on my life, both business and personal. She's an excellent source of knowledge and wisdom who takes time to listen, provide meaningful responses, and helps create an action plan tailored to YOU. Whether you're running your own business, or feeling stuck in your career, Laura and her amazing resources at CSG can help you feel in control again. I'm very greatful to have Laura as not only a coach, but an accountability partner that I can confindently say truly cares about my success.
Justin Allen
Sales Professional - "Audio Advise"
If you are wanting to get plugged into a great marketing, management and enthusiastic mind, you won't go wrong getting to know and work with Titus Bartolotta. He's very engaged with the LKN community but also understands the human experience on the larger scale and how it relates to day to day operations in the business world. Get to know Titus and watch your ideas take new shape!
Karen Sheffield
Real Estate Professional & Business Owner
Titus is an excellent coach and I highly recommend his team at CSG for all of your coaching needs. Titus is a great listener and he asks good questions to help you find your inner greatness and ultimately achieve success. He is a successful leader, entrepreneur, business owner, and coach with a proven track record who has a wealth of experience to share.
Denny Castillo
Owner - Quality Air of the Carolinas
Titus is the real deal. He is masterful in helping shift your business focus onto what matters the most – People! People want to do business with those they like and trust, not prices and products. He helped us redirect our focus and our message back to the outcome we want – Happy repeat customoners willing to refer because they like and trust us over the many options presented. A+ for collaboration and guidance skills. I will be referring him often!
Chris Mulcahy
Owner - Husband's Helper
Titus is a great leader in many ways. His ability to connect to those around him and his client is remarkable. I have enjoyed his involvement in my business life, and personal life. If you want to succeed, you'll need him on your team. I know he is committed to make the world a better place.
Bob Gors
Owner - Lake Norman Capital Management
Take the time to meet with Titus Bartolotta
With Collaborative Solutions Group!! It will be well worth your time!
His Engaging, Professional approach and innovative solutions will be a great asset to you and business!!
Lauren Robertson
Realtor
Huge thank you to Laura Lorenz !! She has been a huge help in getting me back on track and helping me grow my business as a real estate agent. From setting aggressive goals to diving deep into personality and skills, she's been wonderful to work with and I'm excited to continue our working relationship.
Donna Houghton
Lifestyle Specialist & Sales Professional
Titus sees the person, with a business and with his heart and experience, genuinely helps propel them forward. You get more than business coaching with this guy. You get a guy that really cares about improving your quality of life, whatever that means for you.
Jim Price
Business Owner
People expect me to be the confident one, but it's not always easy for me. Recently I made the decision to change jobs. The truth is I can sell just about anything to anyone, but for some reason selling myself to a potential employer seemed nearly impossible. I knew I needed help so I called Titus. We spent a few hours together fine tuning my resume and talked about the opportunities in front of me. Titus brought up details of the process that I never would have thought of, and then he provided suggestions. Thanks for the inspiration Titus and the sweet resume too. Now I feel ready.
CSG Advantage is an intentional and strategic delivery system of personal development and professional growth. To help ensure clients make the most of their growth journey and maximize their potential, every private coaching client gets far more than just dedicated time with their coach. Clients get 24/7 access to our client only online learning content. CSG Online delivers hundreds of hours of learning through videos, audio archives, worksheets, reading lists, and quotes to both live and work by all at their own pace. Clients also receive weekly text messages that we call A.I.M. We want clients to HIT-THERE-GOALS. For this to happen, they must first take AIM. Weekly, clients get multiple text messages that deliver Accountability, Insight, and Motivation. Lastly CSG Advantage ensures every client gets a monthly Critical Strategy Guide to make the most of their month, to set goals, organize those goals, block time, prioritize efforts, and measure success.
Isn't it time you had the advantage?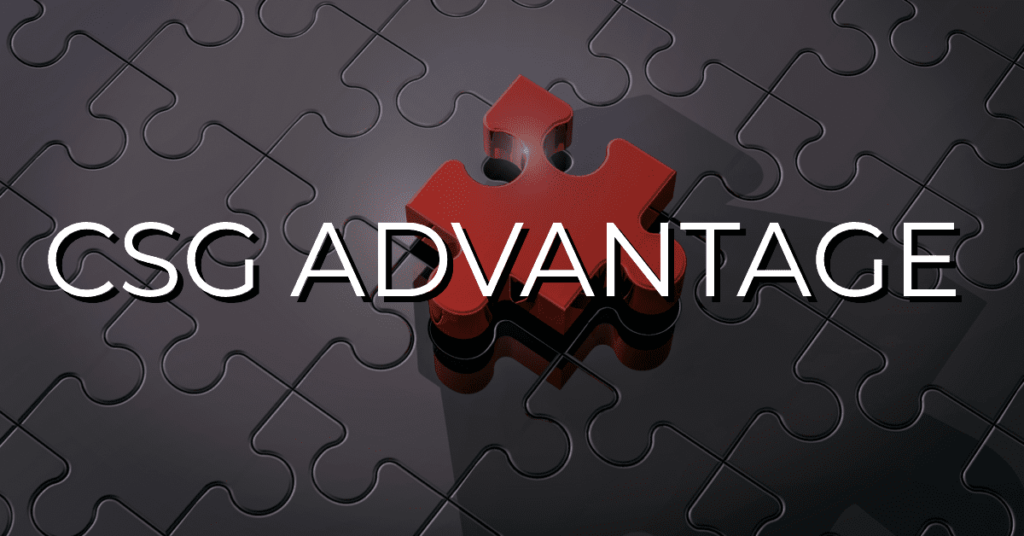 Availability is Limited
Schedule Your FREE Strategy Session NOW!
Read | Watch | Listen
Insight, Strategies, and Motivation from the Collaborative Solutions Group team.
CSG IS PROUD TO HAVE WORKED ALONGSIDE THESE GREAT BRANDS